KDS
Kylin Vision 5" FPV Goggles
Description
Great value 5" FPV goggle that will immerse you in FPV
It's very a simple concept, putting a magnifying lens in front of a 5" high resolution LCD FPV monitor, there you go, a big screen FPV goggle! The Kylin Vision is a great value FPV goggle for everyone, it's very user friendly, inside the battery compartment there is a 1S 2000mah Li-Po battery, rechargeable thru a USB cable so you don't need a charger for the job, the built-in 5.8Ghz video receiver has Auto-search function, just press a button and it will pick up video feeds within seconds, you can also manually change channel for specific frequency. The comfortable foam pad works great which blocks out the light completely and you'll get better viewing experience.
All-Round FPV Experience
Specially designed for FPV, the Kylin Visin is using a 800 x 480 WVGA 5" LCD Display and magnifying glass combination, it gives you a much bigger FOV than the ordinary 32 degrees FPV goggles.
5.8Ghz FPV Goggle for FPV racers
Adjustable 5645mhz to 5945mhz with 5mhz increasment, totally 61 channel, you will find the suitable frequency for your drone and get zero delay real-time video feeds.
Replaceable Battery
Included is a replaceable 1s 2000mah Li-Po battery, re-charge it thru USB cable, very convenient.
Also, if you buy any pair of FPV googles on our store you will receive the FT Special edition goggle head strap FOR FREE!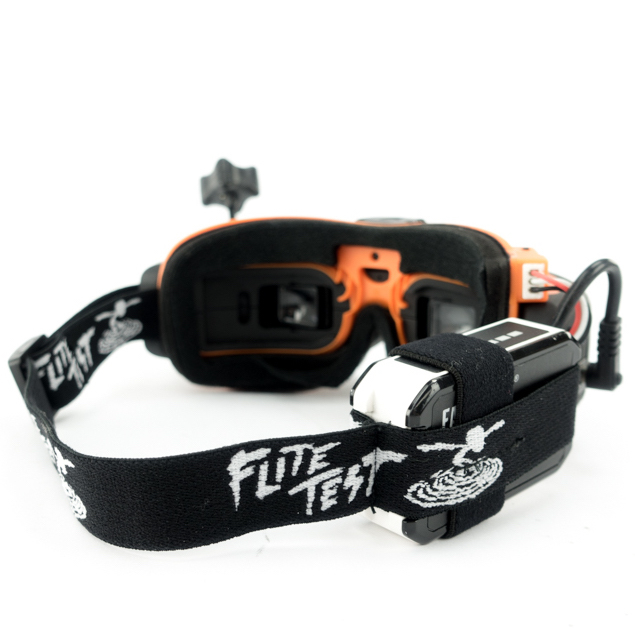 Specifications
Screen size 5"
Screen resolution: WVGA 800 X 480
Channels : 5645 ~ 5945 mhz with 5mhz increasement / 61 channels
Auto search / Manual search for video feeds
Very high comfort Adjustable straps
Input voltage: 4.2V- 8.4V, recommend 1S 2000mAH
Charge : USB 5V1A
Consumption : 300 mA
Weight: 486g (including 1S 2000mah Li-Po battery)
Dimension : 169 x 169 x 109mm;
Brightness: 300cd/m2 (adjustable)
Contrast : adjustable
Saturation : adjustable
Video format: NSTC/PAL
Sensitivity :-90dBm±1dBm
Antenna : SMA, 50 Ohm
Dimension : 169 x 169 x 109mm
This package includes :
Kylin Vision 5" FPV Goggle
3.7V 2000mah battery w/JST connector
USB Charging Cable
FPV Mushroom Antenna
Reviews
Reviews (2)
Great product
Could never use the goggles due to diopter correction needed even though I purchased the corrective lens
Great way to break into FPV
These goggles came quickly thru the mail. After charging them up, I found it was REALLY simple to set up and use with my Hyperion camera. Weather has been a CONSTANT impact since receipt, so I'll update once Ive been able to test them outdoors. There was a touch of bleed through light on each side of the goggles, but it was NOT noticable nor distracting during flight.
Specifications